Uniform
Uniform
We believe that looking smart and dressing smartly for the academic day is an important part of Academy life. It sends out a message to peers and the wider community that Fakenham Academy is a place of importance and it takes pride in itself and everything it does. It promotes high standards and expectations and sends out a firm signal of the attitudes and the behaviour required inside the Academy to promote effective learning.
School Uniform Policy
Fakenham Academy therefore requires all students to wear a school uniform. Our school uniform helps our students to feel part of our school community and has been chosen to be comfortable and appropriate for the activities students will undertake during the school day.
Government Guidance on the Cost of School Uniforms
In the Autumn of 2021, the Government issued new guidance to schools on uniform. The aim of this guidance is to minimise the cost of uniform for parents through a reduction in school branded items, allowing parents to purchase uniform from a wider range of suppliers.
Fakenham Academy and Sapientia Education Trust fully support making school uniform affordable and accessible for all children, and we have reviewed and changed our school uniform to reflect the requirements outlined in the statutory guidance.
School Uniform Requirements
Branded Items
From September 2023 we are reducing the number of branded school uniform items required. These branded items will now also be available from multiple suppliers allowing parents to choose the most convenient and cost-effective solution for their needs.
There is no expectation that parents will need to replace branded items with non-branded items and students can continue to wear branded items that are no longer a requirement.
If you are struggling to access any item of uniform during the school year, please contact our Pastoral Team for guidance and support via office@fakenhamcademy.org.
Unbranded Items
Parents will need to ensure that uniform follows the school requirements which are provided below but can purchase uniform items from any retailer.
Uniform Exchange
Fakenham Academy also encourages all parents to share unwanted items, branded or unbranded, using the School's Uniform Exchange service, details of which are provided below.
Our Uniform
Whilst we have reduced the requirement for branded uniform items, it is still important that or uniform policy is followed to provide a shared identity for all students in our school. Our Student Behaviour and Rewards Policy provides further details of the systems and sanctions regarding uniform compliance.
Uniform Expectations:
https://docs.google.com/document/d/192DhIOOVcNm4sgQ4vpePApVNBYdZeqVUe2E0VS6Zzf0/edit?usp=sharing
Local Specialist Supplier Information (alphabetical)
Below are the contact details for local specialist suppliers with both online and retail shops who supply school uniform all year round.
Birds of Dereham: www.birdsofdereham.com
01362 692941 | 01362 699130
enquiries@birdsofdereham.com
Unit D, 13 Yaxham Road, Dereham NR19 1HB
Sew Sweet: https://www.facebook.com/sewsweetfakenham/
01328 855172
sewsweetfakenham@gmail.com
15-16 Market Place, Fakenham NR21 9BG
Stevensons: www.stevensons.co.uk (from January 2024 onwards)
01603 622355
norwichbranch@stevensons.co.uk
67 Ber Street, Norwich, Norfolk NR1 3AD

Supermarkets and High Street Retailers (alphabetical)
This section provides links to a range of alternative retail and supermarket suppliers. Stock availability may vary depending on the supplier and time of year.

| | |
| --- | --- |
| Aldi | |
| Amazon | |
| Asda | |
| John Lewis | |
| Lidl | |
| Marks & Spencer | |
| Morrisons | |
| Next | |
| Sainsburys | |
| Tescos | |
Uniform Exchange
We have also set up a system whereby parents and carers can enquire about second-hand uniform. Please contact the Pastoral Team for more details via office@fakenhamacademy.org.
Important Note
Parents and carers who are experiencing financial hardship in any aspect of the purchase of the school uniform should contact the Pastoral Team via office@fakenhamacademy.org.
Shoes
There is a new Government Act precisely aimed at ensuring that school uniforms are affordable and so we have updated our Uniform Policy to define more precisely that such high cost trainers, skater or canvas type shoes (e.g. those produced by Vans, Hi Tec, Nike, Adidas etc) are not considered school shoes in our policy.
Please support us and all other parents and carers in this measure from September by ensuring that your child comes to school in normal school shoes. This means they would normally have some sort of heel, be polishable and have no logos i.e. a standard black shoe! If you are purchasing new shoes for September, please be careful where retailers might put such canvas, skater, trainer type shoes on the shelf labelled 'school shoes'. Trainer type shoes can still be worn for PE but not throughout the day. If you are in doubt, please consult with our Pastoral Team.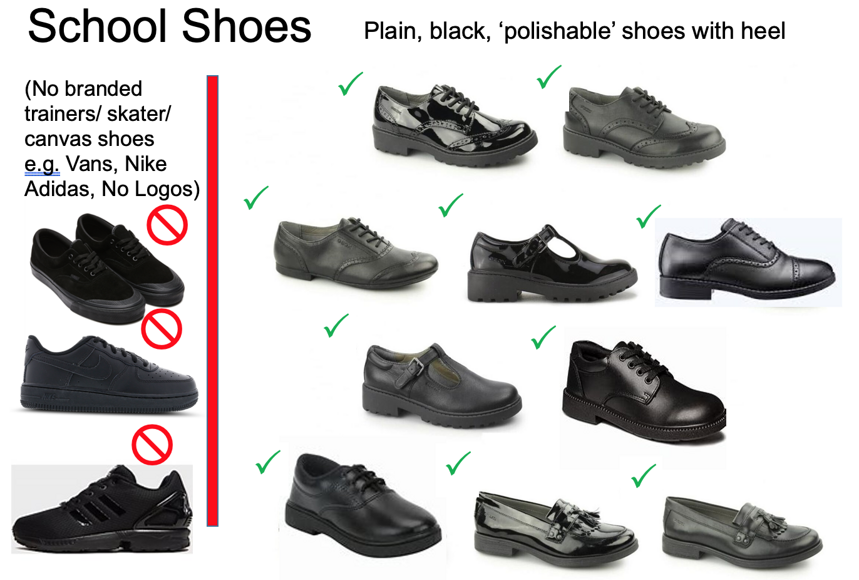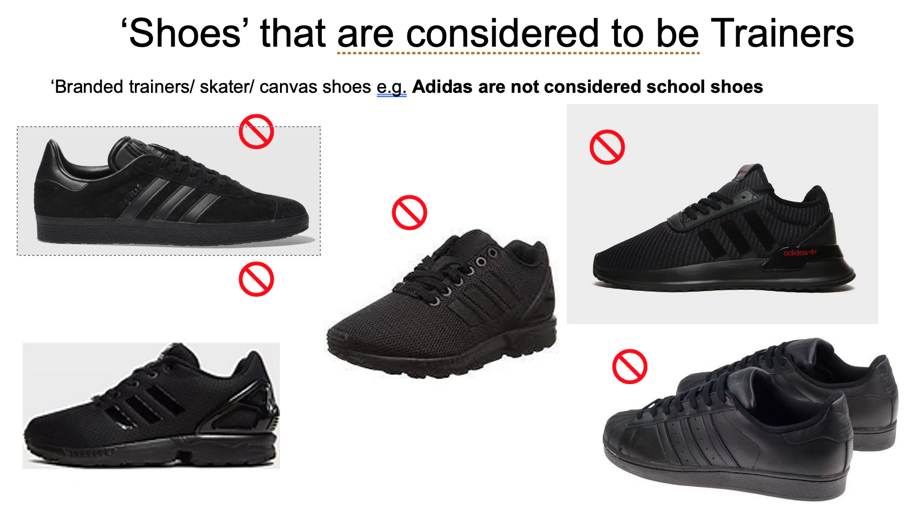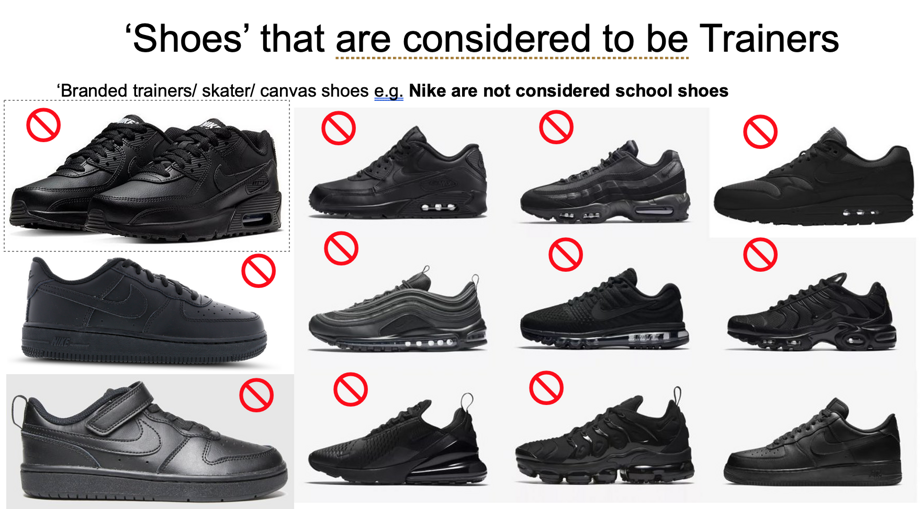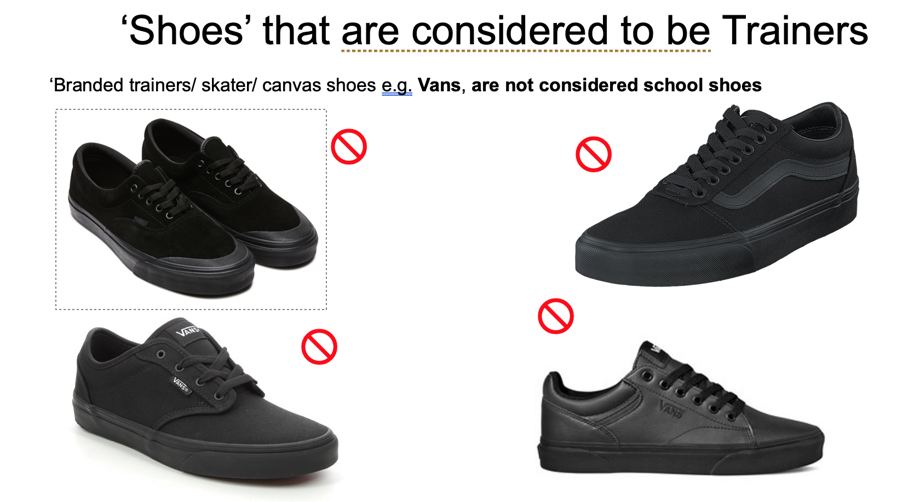 Jewelry
We discourage the wearing of jewellery for health and safety reasons but the following are acceptable: One pair of 'stud' earrings on the ear lobe
One watch
One small ring
Necklaces should not be visible
No visible body or facial piercings
No tongue piercings
All jewellery must be removed for PE lessons.
Make-Up
Make-up is not allowed in Years 7, 8, 9. In Years 10 and 11 unless discreet. Painted nails are not allowed.
Hair
Hair - Conventional, tidy and natural in colour and appearance. Extreme hairstyles, such as sculpted, shaved and patterns shaved into the hair and Mohicans are not permitted. If hair is dyed, it must be a natural hair colour. No extreme colours are permitted. Long hair will need to be tied back for Science, PE and Technology work.
Physical Education Kit